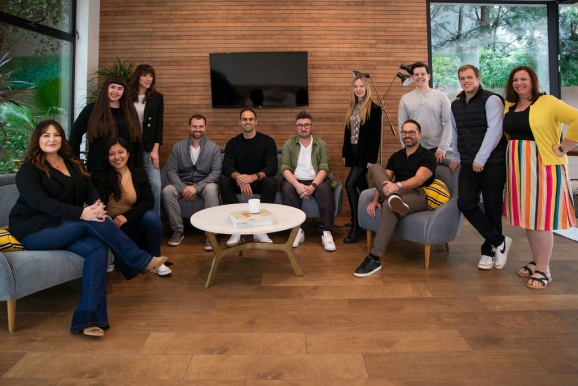 HomeStack develops amazing technology for real estate agents to convert more deals quicker!
Our white labeled mobile apps empower millions of people - from buyers and sellers to individual real estate agents and brokerages. HomeStack provides agents with the most impactful, stylish and easy to use mobile application.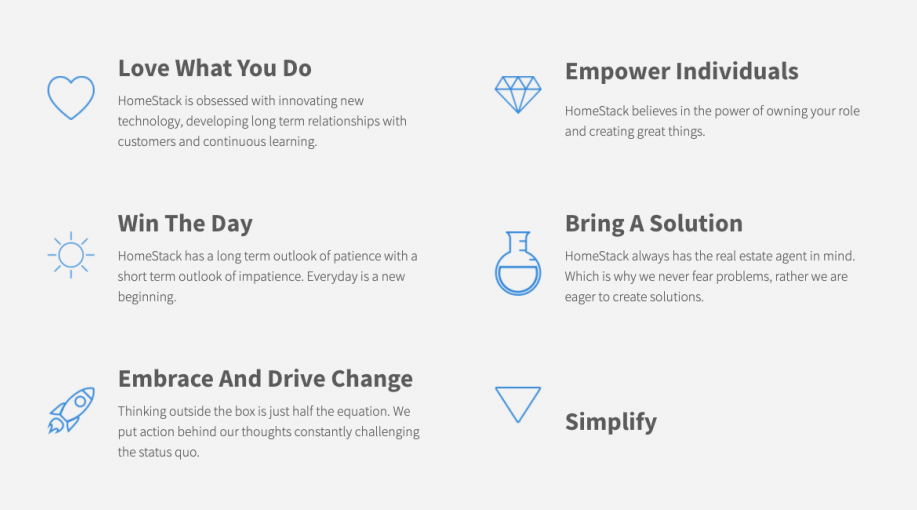 The Job Essentials
Build rapport with high-end Real Estate Agents, Teams and Brokers across the country

Complete product demos and provide a consultative sales approach with a focus on closing

Manage the sales process from demo to close and perform follow up when necessary

Ensure all sales agreements are completed and payments collected.

Set proper expectations and provide first class service and experience.

Keep strong notes and records on prospects with a high attention to detail

Proactively manage and maintain your pipeline and deal flow

Create additional leads and prospects through referrals, app promotion and targeted reach out

Very organized, self motivated, goal oriented and quota driven

Work together with other team members to continually grow targeted areas and build sales knowledge
Ideal Qualities
We are looking for highly motivated individuals who are passionate self starters, articulate on the phone and digitally, quick learners, results driven, customer focused and not afraid to crush it. If you like to win but also like to be part of a winning team, this is the spot for you. This position requires you to be comfortable completing lots of digital product demos/walkthroughs

for both individuals and teams as well as managing your pipeline and closing deals. Account Executives must also be tech savvy, patient and consultative. Our product, like most mobile tech, is game changing but still newer to the real estate space!

Skills Provided

As an Account Executive with HomeStack you will get in depth training on our proven sales tactics as well as access to our entire network of seasoned professionals. Scripts, videos, pitch decks and objection crushing are all at your fingertips. Account Executives will also receive mentoring and success coaching from upper management. You will be more than just a salesperson, you are a brand ambassador. We want you to succeed and we will give you all the tools possible to see that you do.

What We Need
1 year minimum of direct sales experience (preferably in real estate, real estate tech or

SAAS)

Willing to complete multiple zoom product demos a week (20+)

Self Starter and self motivated who is able to operate independently in a remote setting

Quick learner who can learn our product and pitch

Articulate, presentable and personable

Tech savvy especially related to mobile technology (User side)

Goal, KPI and Results Driven

Good Team Member - We work together to do great things
Bonus if you have:
Real Estate background and experience

iOS and Android mobile platform understanding

College Degree
Comp Structure:
Competitive base pay

Uncapped commission opportunities

Performance based bonuses

Great Medical/Dental/Vision Insurance

Paid Time Off

401(k)
Rewards/Perks
Direct and meaningful impact on the organization from Day 1

Fully Remote

Flexible Schedule Opportunities

Increased responsibilities and upward mobility

Annual team summit

Fun atmosphere
Other Info

This is a full time exempt position. The Account Executive will report to the EVP of Sales. This is a remote position with some travel to our headquarters in Southern California or sales based meetings or conferences. HomeStack will provide the necessary equipment to complete the job.
Sales Development Representative (SDR)
The Job Essentials
Research and organize prospects into an everyday work system and pipelines

Conduct high volume prospecting for qualified leads through outbound calls and emails

Strive to convert all qualified prospects into booked appointments for senior sales staff

Confirm appointments for senior sales staff and follow up with non-sales or cancellations

Strategically craft honest relationships and genuine rapport with potential customers

Drive potential customers to discover the power of HomeStack products and how these products can create immediate value in their business

Contact existing clients to upsell additional products and request referrals

Work closely and collaboratively with Business Development, Sales, and Marketing to develop and implement appropriate prospect communication plans

Meet and exceed call/communication quotas as well as up-sale targets

Log and maintain all activity in HomeStack Systems.

Contact, screen, and set appointments with inbound leads

Attend all daily meetings and check-ins



Ideal Qualities
The Sales Development Representative role is a critical component to the prospecting and securing of business. This role revolves around lead generation, lead qualification, appointment and demo setting as well as strategic client follow up and upselling. This position is on the front lines of prospecting and client reach out and requires a strong understanding of client relationships and a laser focus on goals, KPI's and wins. Additionally, Sales Development Representatives need to be well organized and detail oriented with a great demeanor and phone skills. This is a dynamic and exciting role in which you will help expand our innovative products and help increase sales across the company. This is a fast paced and high exposure role that will be right in the middle of the action!
Skills Provided
As a Sales development representative with HomeStack, you will get training on product, processes and the real estate and technology industries. You will receive hands-on training and experience from our entire network of seasoned professionals as well as mentoring opportunities and career development.
What we need:
Sales and/or Customer Service Experience with direct client contact and communication

Comfortable and persistent on the telephone a must!

Motivated by success, passionate, and highly driven to achieve targets

Resilience, perseverance, and an ability to overcome objections

Eager to learn quickly and retain information. Demonstrates ability to proficiently understand and absorb new information without being told multiple times

Very well organized, hard working and extremely detailed oriented

Coachable. Able to take direction and guidance from multiple departments

Articulate, patient and positive attitude

Tech savvy with a strong understanding of mobile technology

Excited to work in a startup environment

Bachelor's Degree or Equivalent Experience
Bonus if you have
Similar phone based sales experience

Real Estate background/knowledge

iOS and Android platform understanding

Cloud based business systems such as:

Active Campaign, Aircall, Zoom.us, Google Drive, Calendly
Comp Structure
Base pay

Uncapped Commission opportunities

Performance based bonuses

Great Medical/Dental/Vision Insurance

Paid Time Off

401(k)
Rewards/Perks
Upward mobility and opportunities for top performers

Direct and meaningful impact on the organization from Day 1

Perks and prizes

Fun atmosphere

Flexible Schedule
Other Info
This position will be a Full-Time either Non-Exempt or Exempt depending on experience. This is a remote position with some possible travel to our headquarters in Calabasas, CA. Standard working hours are 8am to 4:30 pm pacific time. HomeStack will provide the necessary equipment to complete the job including a laptop computer and headset. Strong and reliable internet connectivity and a quiet place to work is the responsibility of the employee.
HomeStack © 2022. All rights reserved.